Crosslinking Agent

Vulcanizing Agent

Flame Retardant

Synergistic agent

Pharmaceutical intermediate

Foaming Agent
Your position: Home - Brands / Product info - Crosslinking Agent
Triallyl cyanurate
Trade Name: FARIDA TAC
Common Name: TAC
Chemical Name: Triallyl cyanurate
Formula:C12H15N3O3
Chemical Structure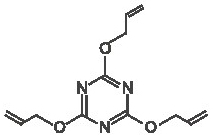 Molecular Weight 249.27
CAS NO 101-37-1

---
Properties
Colorless transparent liquid or white crystal with Melting point between 26°C and 28°C.

---
Application
As a kind of cross-linking reagent of tri-functionality reaction, FARIDA TAC can significantly improve the strength, rigid and thermostability of plastics products, and can make products be used at about 250℃ for a long term. Therefore,FARIDA TAC is a new kind of cross-linking reagents for making high-performance unsaturated polyester and resin of acrylic acid series,especially for making glass reinforced plastics that can resist high temperature and tension.
FARIDA TAC can not only be used in rubber and cable industry as vulcanization accelerator to improve sulphation effects, but also as photosensitizer of cross-linked polyene phytochrome to reduce exposure dose.

---
Package and Storage
For liquid TAC,packed in 25KGS/plastic drum or 200KGS/metal drum.
For powdery TAC, packed in paper and plastic compound bags with net weight 25KGS or 20KGS.
Stored and transported as non-dangerous goods.
Avoid high temperature.

---
Specification
Product

FARIDA TAC
FARIDA TACP
FARIDA TACE

Appearance

Colorless transparent
liquid or white crystal
White powder
White powder

content(%)

≥99
lgnition residue ≤30%

lgnition residue ≤50%

Carrier

N/A
SiO2
SiO2 CaCO3

Acid value(mgKOH/g)

≤0.3
N/A
N/A

Hue(Pt-Co)

≤30
N/A
N/A