Crosslinking Agent

Vulcanizing Agent

Flame Retardant

Synergistic agent

Pharmaceutical intermediate

Foaming Agent
Your position: Home - Brands / Product info - Flame Retardant
Tris(2,3-dibromopropyl)isocyanurate
Trade name: FARIDA TBC
Common name: TBC
Chemical name: Tris(2,3-dibromopropyl)isocyanurate
Formula: C12H15N3O3Br6
CAS NO: 52434-90-9
Molecular weight : 729
Chemical Structure: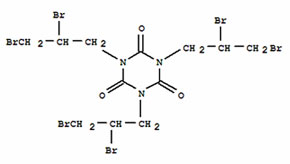 ---
Usage:
*Designed for fire resistance,FARIDA TBC is a widely used new additive brominated flame retardant with excellent characteristics such as good effectiveness for flame retardant, low volatility, nice compatibility,durability,lightfastness, water resistance and non-toxicity.
*FARIDA TBC provides highly effectiveness on polyolefin, PE, PP, PVC, PS, foaming polyurethane,polycarbonate, ABS, unsaturated polyester, poly methyl methacrylate, polyester, a variety ofproducts suchas synthetic rubber and fibers, etc..
---
Package and storage
Packed in inner PE bag with PP woven bag outside, N.W.: 20kgs,or paper and plastic compound bag, N.W.: 25kg.
Stored and transported as non-toxic and non-dangerous goods. Beware of dampness.
---
Specification
| | | |
| --- | --- | --- |
| Model | FARIDA TBC-A | FARIDA TBC-B |
| Appearance | White powder | White powder |
| Active content | ≥97.0% | ≥95.0% |
| Melting point(℃) | 105-115 | 100-110 |
| Acid Value(mgKOH/g) | ≤0.3 | ≤0.5 |
| Volatile matter(80℃,2h) | ≤0.30 | ≤0.50 |
| Whiteness | ≥95.0 | ≥92.0 |