Crosslinking Agent

Vulcanizing Agent

Flame Retardant

Synergistic agent

Pharmaceutical intermediate

Foaming Agent
Your position: Home - Brands / Product info - Flame Retardant
Tris(2,3-dibromopropyl)isocyanurate
Trade name: FARIDA TBC
Common name: TBC
Chemical name: Tris(2,3-dibromopropyl)isocyanurate
Molecular formula: C12H15N3O3Br6
CAS NO: 52434-90-9
EINECS NO: 257-913-4
Formula weight : 729
Chemical Structure: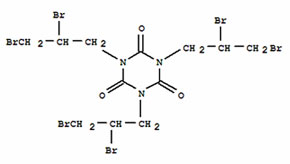 Usage:
*Designed for fire resistance, FARIDA TBC is a widely used new additive brominated flame retardant with excellent characteristics such as good effectiveness for flame retardant, low volatility, nice compatibility, durability, lightfastness, water resistance and non-toxicity.
*FARIDA TBC provides highly effectiveness on polyolefin, PE, PP, PVC, PS, foaming polyurethane, polycarbonate, ABS, unsaturated polyester, poly methyl methacrylate, polyester, a variety of products such as synthetic rubber and fibers, etc..

Package and storage
Packed in plastic bag with fiber fabric outside. N.W.:20kg, or paper and plastic compound bag, N.W.: 25kg.
Stored and transported as non-toxic and non-dangerous goods. Beware of dampness.

Risk and handling
Irritating to eyes, respiratory system and skin.
In case of contact with eyes, rinse immediately with plenty of water and seek medical advice.
When handling products, wear suitable gloves and eye/face protection

Specification
Model
FARIDA TBC-A
FARIDA TBC-B
Appearance
White powder
White powder
Whiteness
≥95.0%
≥92.0%
Melting point(oC)
105-115
100-110
Active content
≥97%
≥95%
Acid Value(mgKOH/g)

≤0.30

≤0.50

Volatile matter(80oC,2h)
≤0.3
≤0.5
Solubility
Insoluble in water, alcohol, cyclo-alkanes; slightly soluble in carbinol; soluble in organic solvents such as acetone, benzene and toluene, etc..
Performance
Stable at storage. Good compatibility with plasticizers and other additives.