Crosslinking Agent

Vulcanizing Agent

Flame Retardant

Synergistic agent

Pharmaceutical intermediate

Foaming Agent
Your position: Home - Brands / Product info - Vulcanizing Agent
1,1-Bis(t-butyl peroxy)-3,3,5-trimethylcyclohexane
Trade name: FARIDA TMCH-335
Common name: TMCH
Chemical name: 1,1-Bis(t-butylperoxy)-3,3,5-trimethylcyclohexane

Formula: C17H34O4
Chemical Structure: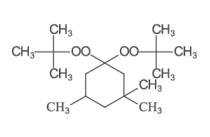 Molecular Weight: 302.5
CAS NO: 6731-36-8

---
Activation energy: 35.5kcal/mol   
1min. Half life temp.: 155℃
Flash point: 46℃
SADT.: 60℃
Alarm temp.: 55℃

---
Application:
FARIDA TMCH-335 is used as initiator for polymerization of styrene, crosslinking agent for polyethylene and elastomers, heat curing agent for unsaturated polyester, silicone rubbers, etc..

---
Package and Storage:
TMCH-335A: packed in PE drums. N.M.: 25kg.
TMCH-335B: packed in cartons. N.M.: 20kg.
Keep away from directsunlight, strong acids, reductive agents and violent shaking during transportation or storage.
Stored below 25℃ with good ventilation.

---
Specification
Product
FARIDA TMCH-335A
FARIDA TMCH-335B
Appearance
Yellowish liquid
White powder
Content(%)
min.90.0%
39-41
Carrier(%)
N/A
SiO2
CaCO3
Melting Range (℃)
Max.50
N/A