Crosslinking Agent

Vulcanizing Agent

Flame Retardant

Synergistic agent

Pharmaceutical intermediate

Foaming Agent
Your position: Home - Brands / Product info - Crosslinking Agent
Triallyl isocyanurate
Trade name: FARIDA TAIC
Common name: TAIC
Chemical name: Triallyl Isocyanurate
Molecular formula : C12H15N3O3
Molecular weight : 249.27
CAS NO: 1025-15-6
EINECS NO: 213-834-7
Chemical Structure: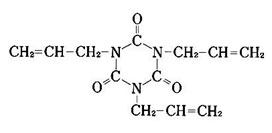 Properties:
Solubility
Not dissolves in water, slightly dissolved in alkane, and completely dissolves in aromatic hydrocarbon, alcohol, acetone, hydrocarbon halides and cyclopentane hydrocarbon, etc..

Application
FARIDA TAIC is widely used as the crosslinking agent, modifier and assistant vulcanizer of thermoplastics, ion-exchange resin, special rubber and other polymer materials. It is also and intermediate (additive) of photo-curable coating, photoresists and flame retardant(such as TBC).
FARIDA TAICS is crosslinking agent for EVA sheet of solar cell packaging film.

Packing and Storage
For liquid FARIDA TAIC, packed in metal drum. Net weight is 200kg or 25kg. Stored and transported as safe goods. Avoid high temperatures.
For powder FARIDA TAIC, packed in hard-paper drum or fiber bags. Net weight is 25kg or 20kg.
Stored transporting and transported as safe goods. Avoid high temperature.

Specification
Model
FARIDA TAICS
FARIDA TAICA
FARIDA TAICB
FARIDA TAICP
FARIDA TAICE
Appearance
Colorless liquid or crystal
Slightly yellowish liquid or crystal

Slightly yellowish liquid or crystal

White or slightly yellowish powder
White or slightly yellowish powder
Hue(Pt-Co)
≤30
≤50
≤150
N/A
N/A
Active
Content(%)
99.0-100.0

98.0-99.5

95.0-98.0
Ignition residue ≤30%
Ignition residue ≤50%
Acid Value (mgKOH/g)
≤0.2
≤0.3
≤0.5
N/A
N/A